Showroom & Training Center
847, Jalan Teratai 36/17,
Taman Indahpura,
81000 Kulai,
Johor, Malaysia.
+607-660 6983
+6017-310 8766
Autocount F&B
AUTOCOUNT F&B Pos
Complete Solution for F&B Industry
Efficient Floor Plan & Table management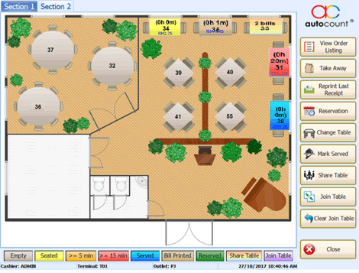 Design restaurant's areas/tables using AutoCount table management module. Handle batches of crowds easily with table plan feature and effectively manage seats arrangement and minimize waiting hours. Perform all settings of layout with simple user interface, with various features including take-away, split bills and combine bill functions.
Manage Prices, Discount & Promotions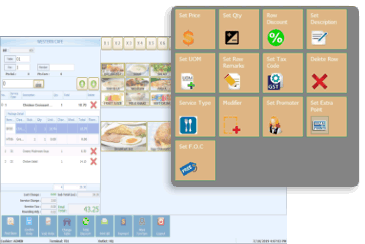 Pricing matter is crucial in retail business. That's why AutoCount POS is equipped with features and functions for you to plan your prices, discounts, memberships, seasonal or happy hour discount, specific promotions etc.
Better Managed Ordering Process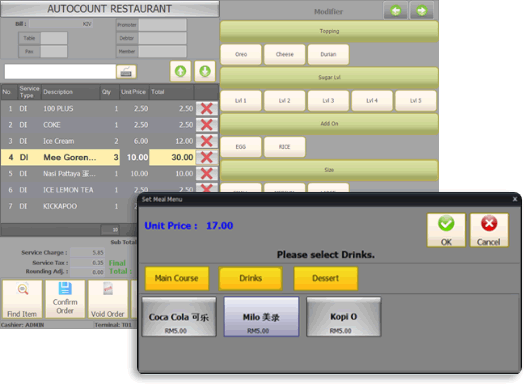 Try to speed up sales/purchase process by maintaining Item Packages, Set Meals, or combinations of a list of items to be transacted as a package. AutoCount POS and F&B system are designed for easy setup with practical functions:
Make a good use of modifier
Display of Items Sold Out
Kitchen printer monitor to make sure you naver miss a single kitchen slip
For maximum effciency, assign separete printers to beverage station (to process drinks orders) and kitchen (to process food orders).
Making reservation
Your may customize the content of kitchen slip (e.g. font size)
Ingredient reports such as listing of ingredient status and consumption report
Notifications are automatically sent to the kitchen if an order or table is changed.
Smart Ordering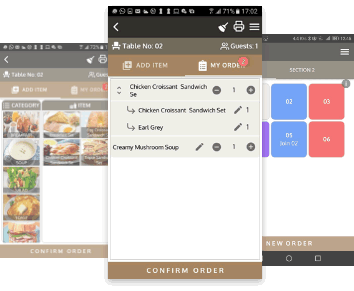 Ordering process can be done on our smart eWaiter app that used with devices such as low-cost smartphones and tablets, This will speed up order taking process and orders are sent directly to the kitchen for immediate process and accuracy as the whole process is completed right at the table side, and customers are attended almost immediately.